Shelling and sightseeing in the Island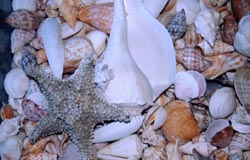 Sanibel and Captiva islands as well the surrounding barrier islands are among the top three shelling destinations in the world. Gently sloping sandy bottoms allow a new supply of treasures from the deep to become washed ashore with each new tide change. Sanddollars, whelks, tulips, kings crowns, horse and fighting conch (pronounced konk),scotch bonnets, and the grand prize, the junonia are to name but a few. Even non-shellers can't helped but be amazed by the diversity and beauty to be found along the waters edge.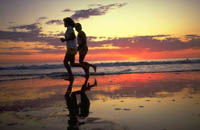 Is your pleasure golf? How about tennis? Biking, Hiking, Rollerblading? Enough yet? How about parasailing, windsurfing, jet skiing, sailing, fishing, exploring, birding, jogging...you name it. We got it. This location is truly custom made for the visitors pleasure and interest. Quaint boutiques, art shots, and designer clothing outlets keep the shopper in you going all day long. Or if you prefer, do our favorite activity. Kick the shoes off, dig those toes in the sand and just chill out on a tropical white sand beach.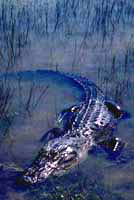 Wadding birds of all colors and description are also commonplace along the beach. Roseate spoonbills, egrets, herons, ibis ,woodstorks, sanderlings, terns gulls,as well as the everpresesnt pelican,and majestic osprey. White pelicans and the southern bald eagle are also a special treat. Don't forget the florida alligators at the Ding Darling Wildlife preserve. You will not be able to ignore the bottlenose dolphins as they playfully swim along the shoreline, not fifty yards away. An occasional manatee may be spotted peacefully cruising along the grass flat. The wildlife found among the islands is some of the most diverse found anywhere. Alligators, raccoons, opossum, armadillo, otters, gopher tortoise, and even bobcats all call Sanibel home. For the adventurous, charters to the out islands accessible only by boat can be the highlight of your stay. Search for sanddollars and shells along the secluded beach. Watch as the dolphins curiously approach your boat for your own personal show. White pelicans and eagles soar on the thermals, or try your hand at catching that prize gamefish.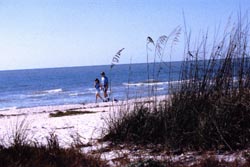 Whether is a quick grouper sandwich on the dock or a sumptuous gourmet dining experience, the islands are sure to please the most discerning appetites. You may also dine at some of the most unique eating establishments found anywhere. Cabbage Key , supposedly where Jimmy Buffet came up with Cheeseburger in Paradise, is a must. Let us place you with the professional captain to make these dreams come true. Our referral service can handle all your plans for a safe and enjoyable charter with memories to last a lifetime.
Small Tarpon
Capt. Dave with a nice redfish (red drum)

Florida Permit
The waters surrounding Sanibel and Captiva offer some of the finest sport fishing found anywhere. Truly world class, one can stalk tailing redfish on pristine grass flats in mere inches of water. Tangle with monster snook along the mangrove edge. If you think your tough enough, challenge giant tarpon over 100 lbs. on a flyrod. Offshore,troll up king makerel,little tunny, or cobia, or fish ledges for tasty grouper and snapper. Fishing from the pier or shoreline can be just as exciting. Snook,redfish, trout sheephead, mackerel or just about anything that swims can be hooked.
Saltwater Fishing Tips for the angler from Capt. Dave Gibson
Poling for Reds
Florida Permit
Now that's a snook!
Light tackle,ranging from 8-12lb. test with a medium-fast rod and a reel with a smooth drag is perfect for most situations. If you are fishing for large snook or grouper around structure, heavier tackle in the 30- 50 lb. range and heavier leader,50-80lbs is a must. If I were going on a trip,there are two lures I would be sure to have with me. One is a white bucktail jig,1/4-1/2 oz. and a silver spoon, 1/4-1/2 oz.. These two lures can take fish anywhere in the world.

The largest snook I ever took (31lbs) was caught on a plain white jig, bounced slowly along the bottom, while fishing from the shore on Sanibel. My preference on spoons is a # 2or #3 Reflecto spoon. It rides hook up on the retrieve and can be worked very slowly through very shallow water. However any spoon can work, from little cleos to daredevils to another favorite, the Johnson silver minnow. I prefer single hooks to treble.

Clouser Minnows , Deceivers and bendbacks tied chartreuse/white, pink/white, yellow, all white, yellow/red will cover most of your needs. Tie clousers on # 2 & #1 hooks and deceivers and bendbacks on #1 and 1/0. Floating line is good for most situations however in the faster and deeper water an intermediate line is best.

Many lures work very well also. Any of your bass lures work fine , just make sure to change the lighter freshwater hooks to the heavier saltwater ones. If you don't, you may miss the fish of a lifetime. For the flyfisherman, bring that 8-9 wt. or you'll be sorry! An 8-9 wt. rod is just right for fishing the shorelines and beaches. A floating line will do just fine, however if you have a spare spool or reel a sinking line is sometimes needed. At least a 9-12ft. leader is what you should be using. 90% of the time I add a shock tippet,18-20 inches to connect to the fly. Many of the fish have either very rough mouths or teeth. I use 30-40lb. test for the shock tippet.

Remember to keep your tip up! See you on the water!

Visit my web site at www.snookfly.com, contact me by email: dave@snookfly.com or cell phone 239-826-4301.

Capt.. Dave Gibson

A Sanibel - Captiva Vacation Connection
e-mail: info@sanibelrent.com

Toll Free: (800)-870-8441
Local: (239)-415-3263
Fax: (239)-466-1390
16600 Arbor Ridge Dr. 
Fort Myers, FL., 33908
Return to Listings

A Sanibel - Captiva Vacation Connection Website is copyright © 2000 All Rights Reserved. Webpage design by dbeaty@gate.net